Although Voltron Force lasted for just one 26-episode season, in 2011-2012, and the show didn't have much in the way of tie-in merchandise, some of the tie-in merchandise that was made was pretty cool. Among these items were six Voltron Force childrens' readers.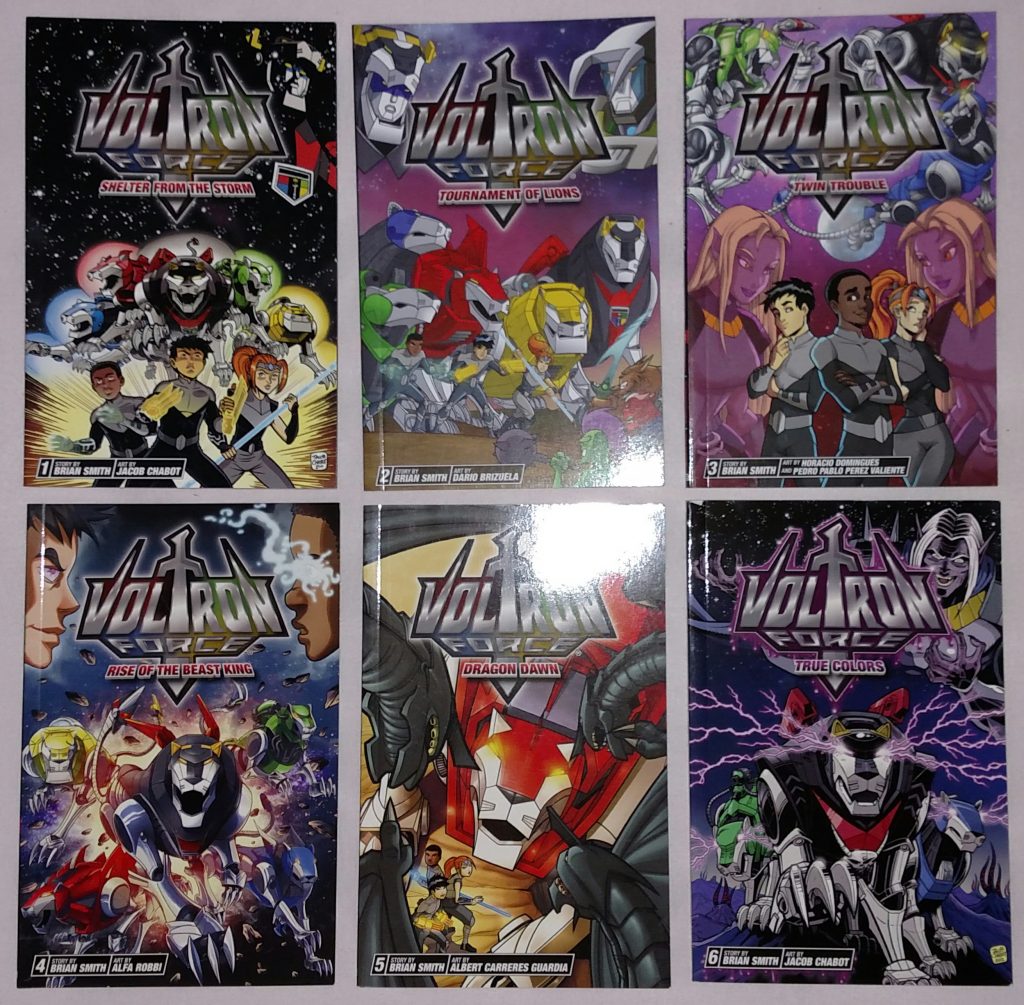 Published by Vizkids between 2012 and 2013, each of the six readers was basically a mini-graphic novel. Each was a self-contained story, and each was a fun read. The books were marketed to kids aged 7 and up.
Listed below is information about each of the six Voltron Force readers. If you are a fan of Voltron Force, then I recommend tracking down and buying these now out-of-print books!
* * * * *
Voltron Force Volume 1: Shelter from the Storm
Story by Brian Smith
Art by Jacob Chabot
ISBN-13: 978-1-4215-4153-2
First printing: April 2012
Synopsis (from the back cover):

The mighty robot Voltron is back! And three cadets — Daniel, Larmina and Vince — are training to become defenders of the universe.
But King Lotor and his villainous minion Maahox have other plans. They've unleashed a horrifying storm, churning with evil energy. When Daniel, Larmina and Vince are sucked into the vortex, their worst nightmares come true!
My Thoughts: This story is surprisingly creepy, as the cadets face their fears head-on. Vince discovers a zombie-like Green Lion and a possessed Pidge. Larmina finds an Arus conquered by Lotor, and a beheaded Voltron. Daniel faces an evil duplicate of himself, in a sort of foreshadowing of the events of what would be the television series' final episode. The ending features a welcome surprise: a cameo of a classic Voltron character. Good stuff!
Voltron Force Volume 2: Tournament of Lions
Story by Brian Smith
Art by Dario Brizuela
ISBN-13: 978-1-4215-4154-9
First printing: June 2012
Synopsis (from the back cover):

When a cargo ship in deep space sends out a distress signal, it's the Voltron Force to the rescue! But without warning, Daniel, Larmina and Vince find themselves fighting the greatest warriors in the galaxy for the right to pilot the Voltron lions!
My Thoughts: Both the story and artwork are less impressive than in Volume 1. The art on the first page has some bizarre issues with perspective, and this image is featured again later in the story. Having said that, it is interesting to see the characters rendered with a different, more juvenile look. The story, while not as engaging as that of Volume 1, does raise an interesting question: Should the universe at large have more say in who operates the Defender of the Universe?
Voltron Force Volume 3: Twin Trouble
Story by Brian Smith
Art by Horacio Domingues and Pedro Pablo Perez Valiente
ISBN-13: 978-1-4215-4155-6
First printing: October 2012
Synopsis (from the back cover):

Now that Daniel's a Voltron Force cadet, he can't wait to show off in front of his former Galaxy Alliance Flight Academy classmates. He owns the skies in Black Lion, but not for long! Out of nowhere, two unknown ships appear and put Daniel's flying lion to shame. Who are these mysterious new pilots? And is their presence at the academy an act of peace or an act of aggression?
My Thoughts: This is a fun tale. Lotor's nieces, Zora and Roza, are a fun addition to the Voltron lore. But where do their loyalties lie?
Voltron Force Volume 4: Rise of the Beast King
Story by Brian Smith
Art by Alfa Robbi
ISBN-13: 978-1-4215-4156-3
First printing: October 2012
Synopsis (from the back cover):

No one knows for certain how Voltron was formed, but one ancient legend claims the mighty robot had a sixth part: a terrible warrior spirit called the Beast King. According to the story, the Beast King was separated from the five robot lions and forced into a deep slumber.
Now, an ancient evil is stirring. Has the Beast King awakened to rejoin its destructive spirit with the Voltron Lions?
My Thoughts: I'm of mixed minds about this story. The "Beast King" myth of Voltron's creation is unique and enjoyable, but it feels too different from what was suggested in the television series to feel like a good "fit." The Beast King's visual design is cool, and the term "Beast King" is a fun reference to Beast King Golion, the anime program on which Voltron: Defender of the Universe was based. I'd almost prefer this story to be a tie-in to Beast King Golion rather than Voltron Force. Overall it's a great read!
Voltron Force Volume 5: Dragon Dawn
Story by Brian Smith
Art by Albert Carreres Guardia
ISBN-13: 978-1-4215-4157-0
First printing: December 2012
Synopsis (from the back cover):

On Planet Doom, there's a horrible species of dragon that hatches every hundred years. It's just about hatching time, and Maahox orders the Drule army to ship thousands of dragon eggs off to Planet Arus! Will the dragon dawn be too much for the Voltron Force?
My Thoughts: This is a straight adventure story. I like it on those terms, although it doesn't really offer anything that makes it stand out. The artwork has a bit of a Teen Titans vibe.
Voltron Force Volume 6: True Colors
Story by Brian Smith
Art by Jacob Chabot
ISBN-13: 978-1-4215-4158-7
First printing: February 2013
Synopsis (from the back cover):

All of the Voltron Force's enemies from past battles — the Drule twins Zora and Roza, Daggor, Kai-Borg and Prince Nebulax — have joined forces with King Lotor for the ultimate battle of good versus evil. And this time, Lotor is in command of something he's never had before — the Voltron Lions!
Could this be the end of the Voltron Force?
My Thoughts: This story is framed as the "finale" of the children's readers. The events of the previous five books pay off here. The story also takes place just before what would be the final episode of the television series, as Allura, Pidge, and Keith have already stepped down from being pilots in the Voltron Force. Jacob Chabot's artwork is as strong here as it was in Volume 1. This story is a big finish to some fun stories, and with this book having been published almost a year after the premature cancellation of the television series, in many ways, this book feels like the final goodbye to the Voltron Force characters.
* * * * *
Surprisingly, in 2014, Brian Smith and Jacob Chabot would team up once more with a comic book-style "sequel" to the Voltron Force TV program. The epilogue of Voltron: From Days of Long Ago: A Thirtieth Anniversary Celebration (ISBN-13: 978-1-4215-7540-7) provides a sneak peek of what might have unfolded in the TV show if a second season had been produced. The narrative becomes darker — darker than I suspect that the TV show would have actually gotten. Interestingly, the show's viewpoint character seems to have changed from Daniel to Vince. Given the events of the story, the shift makes sense, and I rather like the change, since I had found Vince to be a more interesting character than Daniel. Unfortunately, the epilogue reads more like a visual outline of a couple unproduced episodes rather than an actual story, and it ends on a cliffhanger that it almost as frustrating as the one in the TV show — perhaps more so, since it's almost certain that this cliffhanger will never be resolved.
Voltron Force was a fun show to watch, and these readers from Vizkids are fun, too!