On December 13, 2017, shortly after Marc Morrell and I recorded the (not yet released) 4th-anniversary episode of Let's Voltron: The Official Voltron Podcast (Link), I had the idea of celebrating the holidays Voltron-style, by creating a holiday carol video. One week later, Marc and I have just released the video on the Let's Voltron YouTube channel (Link)!
Voltron's in a Winter Wonderland
(Inspired by "Walking in a Winter Wonderland")
I wrote the lyrics, edited the video using screen caps from Voltron Legendary Defender, and added some visual effects. More on this later.
Cast
Five fellow Voltron fans sang the lyrics while doing their best impressions of characters from Voltron Legendary Defender.
Shamus Kelley – Lance, Zarkon, Slav
Mel Meiko – Allura, Haggar, Shay
Marc Morrell – Matt, Voltron, Laika, Galra commander
Greg Tyler – Shiro, Keith, Hunk, Lotor, Coran, Kolivan
Zilla – Pidge, Bi-Boh-Bi
Lyrics
(Allura) The princess sings
(Allura) Are you listening?
(Coran) I'm youngish
(Coran) though I'm glistening
(Pidge) The Castle's in space
(Lance) with Lance's hot face
(Hunk) Voltron's in a winter wonderland.
(Keith) Gone away
(Keith) is Galra Keith
(Kolivan) Blade of Marmora
(Kolivan) stuck in its sheath
(Bi-Boh-Bi) Bi-boh-bi boh-bi
(Slav) in this reality
(Allura) Voltron's in a winter wonderland
(Galra commander) On the cruiser
(Galra commander) we can build a Kuron
(Galra commander) We'll pretend that
(Galra commander) he's the real Shiro
(Galra commander) He'll say, "Do you trust me?"
(Galra commander) They'll say, "Yeah, man!"
(Shiro) 'Cause I look just like their beloved hero.
(Zarkon) I'll be your boss
(Zarkon) at Central Command
(Lotor) I'll pursue
(Lotor) my plans which are grand
(Haggar) I'll cast evil spells
(Haggar) and ring Paladin death knells
(Laika) Yup-yup yup yup yup-yup yup-yup-yup.
(Hunk) In deep space
(Hunk) we all can have a snow fight
(Pidge) They're not snowballs,
(Pidge) they're Olkari spores.
(Shay) I have never seen
(Shay) a single snow fight
(Matt) You know, I really ought to
(Matt) find some mistletoe
(Allura) Our Lions
(Allura) contain quintessence
(Lance) But I still
(Lance) want holiday presents
(Shiro) We'll fight as a team
(Allura) To restore Alfor's dream
(Allura) Voltron's in a winter wonderland
(Pidge) With family, there's nothing
(Pidge) we can't withstand
(Allura) Voltron's in a winter wonderland
(Voltron) Yes, I am in a winter wonderland
The Snowflakes
The snowflakes were a visual effect that I made using Adobe After Effects, following this tutorial video: Link
Rather than use just any old snowflake, I decided to create one that was Voltron-themed, even though it's impossible to notice this in the finished video. Here is a close-up of the snowflake: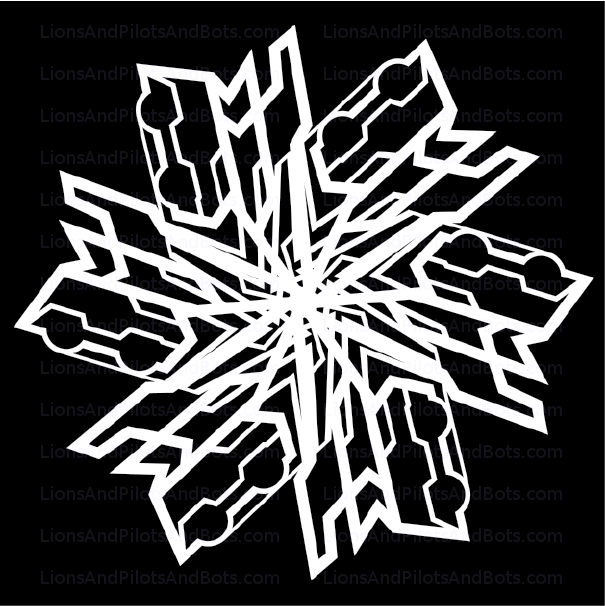 I made the snowflake from a drawing that I made a few years ago: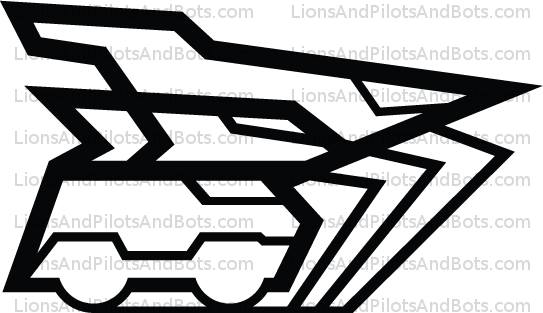 That drawing was based on a logo that was featured on much of the 1980s Voltron: Defender of the Universe merchandise that pertained to Vehicle Team Voltron. (Yes, I had to work Vehicle Team Voltron into this video somehow!)
Happy holidays to fellow Voltron fans across the universe!