Congratulations to Lendy Tayag, whose amazing LEGO Ideas Voltron is on its way to becoming a licensed LEGO product!
In the second episode of Voltron: Legendary Defender, "Some Assembly Required," the paladins of Voltron struggle to figure out how to combine the Lions and form Voltron. At one point, Keith suggests, "I mean, let's try literally building Voltron, like, stacking on top of each other."
That episode was released on Netflix in June 2016. Two months prior, Lendy Tayag was already way ahead of Keith and the other paladins, because he had assembled his own Voltron… from LEGO!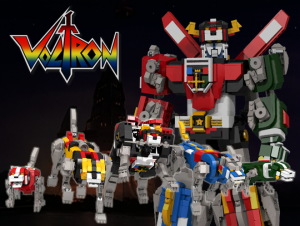 On April 11, 2016, Lendy's model, called "Voltron – Defender of the Universe," was posted to the website of LEGO Ideas. LEGO Ideas allows anyone to submit an original LEGO creation, and if within a certain period of time, that creation gains 10,000 supporters — that is, people who register with the site, vote for the project, and answer a short questionnaire about the project — than a LEGO review board will consider making an actual LEGO building set from that creation. Exciting, huh?
Later in April, Lendy's Voltron model caught the attention of Gizmodo and then Nerdist. Even better, in just 22 short days, Lendy Tayag's Voltron model reached the 10,000 supporters that it needed for LEGO to consider producing that model as a licensed building set!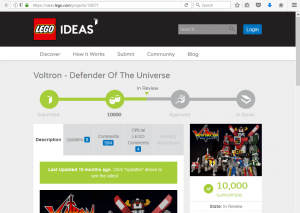 To celebrate this achievement, and to introduce Lendy to fellow Voltron fans, Marc Morrell and I welcomed Lendy as a guest on Let's Voltron: The Official Voltron Podcast. Marc and I enjoyed chatting with Lendy, learning more about him as a person, how he became interested in Voltron and other giant robots, when and how he began designing them in LEGO, and what the experience was like of submitting his Voltron model to LEGO Ideas, seeing it gain so much support so quickly, and ultimately seeing it reach 10,000 supporters in such a short time.
By February 28, 2017, LEGO had reviewed Lendy's Voltron model, plus eleven other projects that had reached 10,000 supporters between May and September 2016. On February 28, LEGO announced its Second 2016 Review Results:
Maia Weinstock's Women of NASA project would move forward and become produced as an official LEGO building set
Lendy Tayag's Voltron – Defender of the Universe project is still under consideration. An update will be given during the announcement of the Third 2016 Review Results.
Would we all like to have heard that LEGO had decided to produce a Voltron building set? Absolutely! On the other hand, working with a licensed property — especially one that is new to LEGO — is not always a simple, straightforward activity, so the fact that LEGO announced that it is still reviewing Lendy's Voltron model shows that they are very much interested in the possibility of producing a Voltron set. Congratulations again to Lendy Tayag for this astounding achievement!
Lendy has since submitted more Voltron-themed projects to LEGO Ideas. None of these has yet achieved 10,000 supporters, but perhaps they will. And even if they don't, if LEGO ultimately obtains a license to produce Voltron models, then perhaps LEGO will still consider these other Voltron projects.
Lendy's models are incredibly cool. As an enthusiast of all incarnations of Voltron, I like all of his Voltron robot designs. As a supporter of the underdog that is Vehicle Team Voltron, I give special kudos to Lendy for representing that robot in LEGO form. Lendy's Vehicle Team Voltron robot even separates into all 15 vehicles!
Lendy's Castle of Lions model, with a full interior, is effectively a play environment that rivals the amazing Panosh Place Voltron Castle of Lions playset from 1985. It certainly rivals any LEGO Star Wars play environment.
Lendy has also submitted some non-Voltron giant robots as LEGO Ideas: Voltes V and Grendizer.
Congratulations again, Lendy! Voltron fans across the universe salute your enthusiasm and your LEGO model designing and building skills.
For more information about Lendy Tayag's LEGO creations, check out the Len_d69 Creations Facebook page.
Let's all show our support for all of Lendy Tayag's great LEGO Ideas!