Captain Olia is one of the more intriguing guest characters in the fourth season of Voltron Legendary Defender. She appears in only three episodes, and speaks in only two, but her canine-like visual design and her distinctive, sweet-but-tough voice, provided by Jessica McKenna, make her easy to like and easy to remember.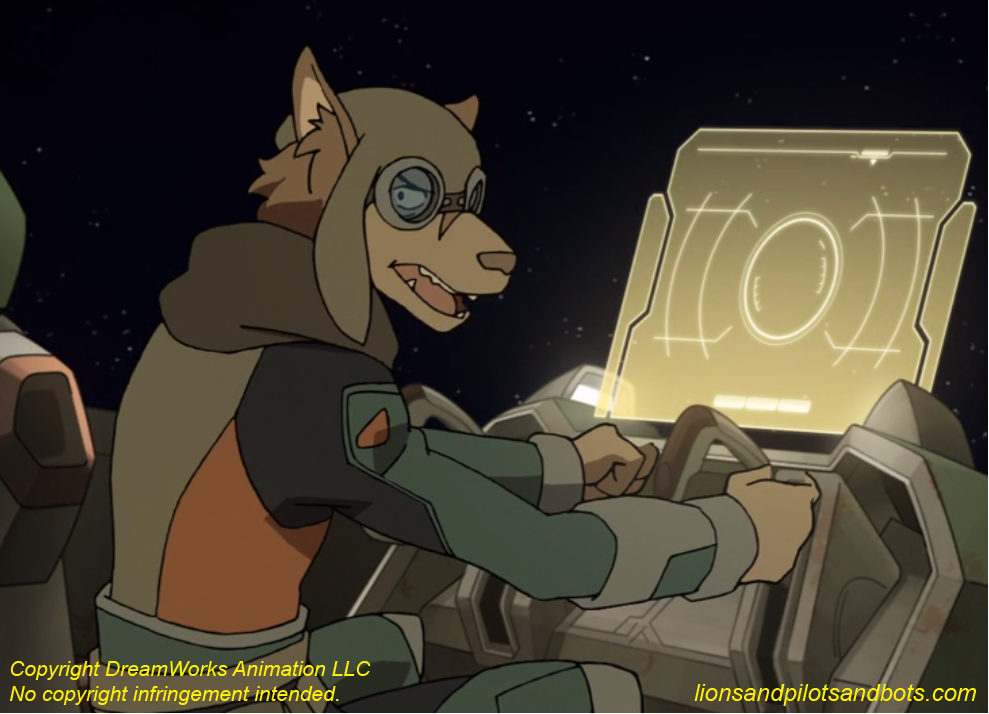 Olia first appears in a brief cameo in the season-opening "Code of Honor," as one of many rebel fighters on Olkarion.
She next appears in "Begin the Blitz," commanding the rebel fleet that attacks the Zaiforge Cannon orbiting Teq. Her shipmates are Matt Holt and an unnamed, possibly cybernetic character. Olia's struggle continues in the season-ending "A New Defender."
On October 12, 2017, Voltron Legendary Defender co-executive producer Lauren Montgomery revealed on her Tumblr page that Olia is an homage to Hayao Miyazaki's Sherlock Hound.
In an interview with Marc Morrell and myself for an upcoming episode of Let's Voltron: The Official Voltron Podcast, to be released on February 7, Lauren mentioned that she had developed a "head canon" backstory for Olia, and that she'd tell the backstory if people were interested.
Afterward I reached out to Lauren and asked her if she would share Olia's backstory with LionsAndPilotsAndBots.com — and she did! Keep in mind that this story is Lauren Montgomery's "head canon" and is technically not part of the canon as defined in actual episodes of the program. (The italicized statements below are direct quotations from Lauren Montgomery, and the screen caps were made by yours truly.)
In one of the final episodes of last season, you can see in a shot of Olia piloting that she has some photos taped to the side of her console.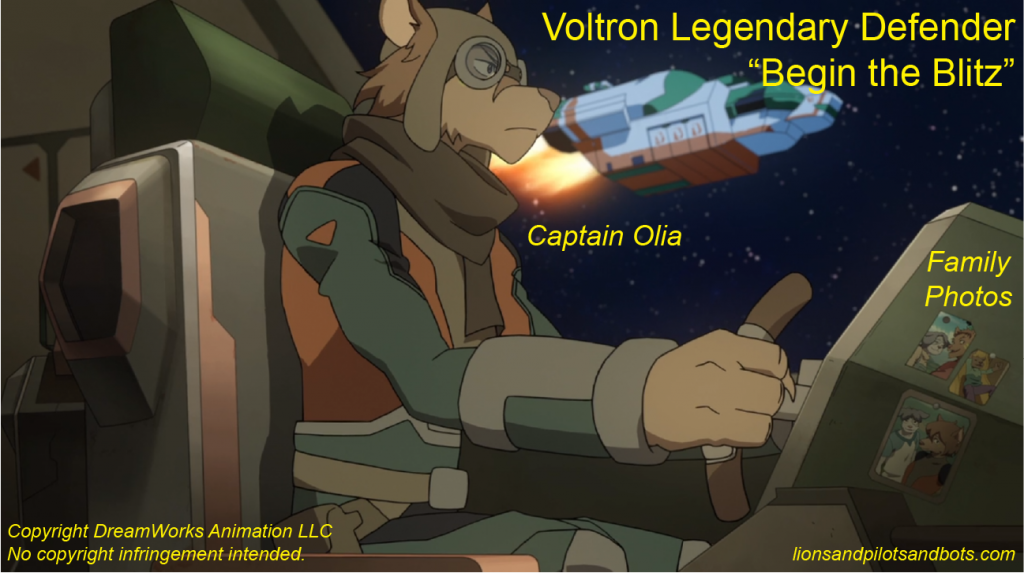 In those photos there is a picture of Olia and her eldest son. He looks to be about the human equivalent of 15.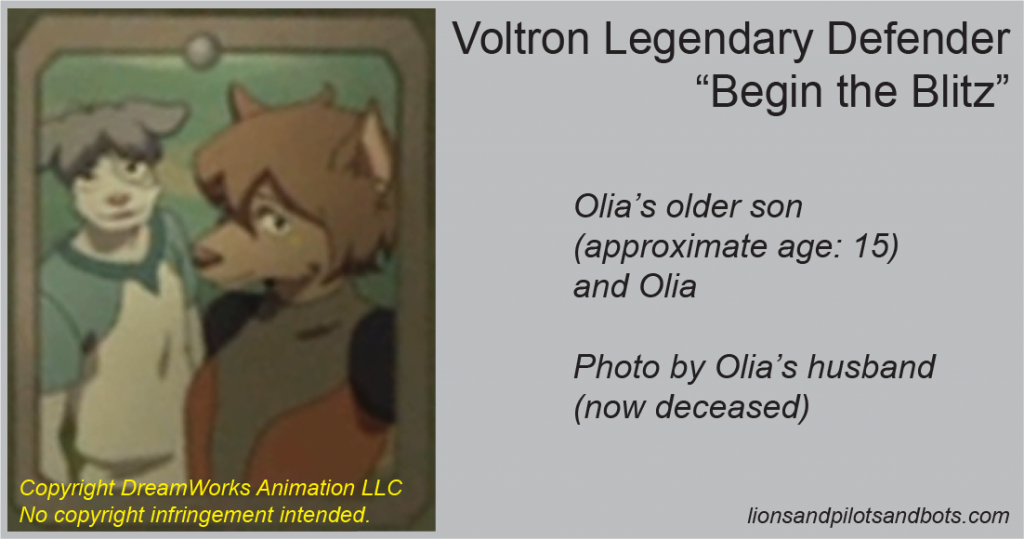 There is a picture of Olia's younger son on a playground. He looks to be about 10.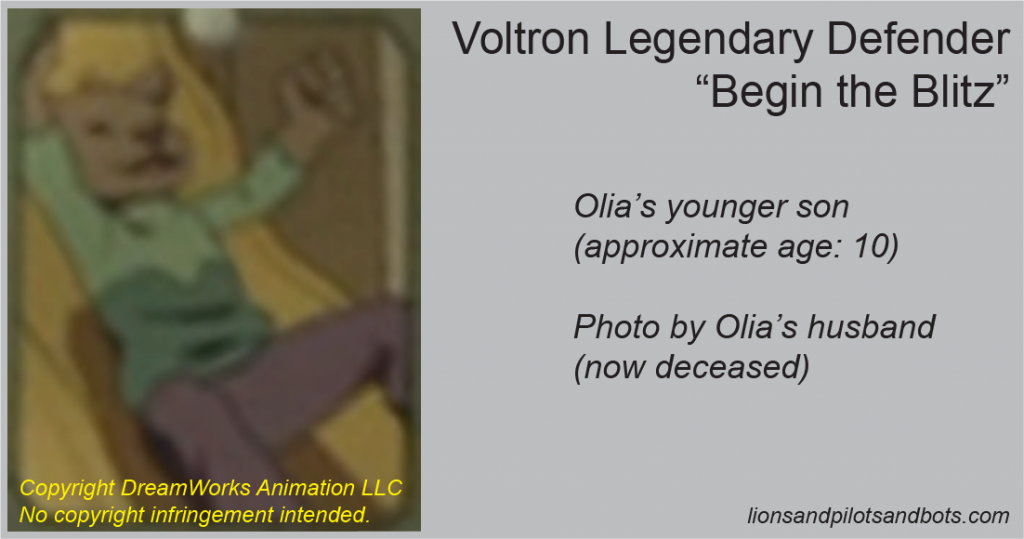 There is also another picture of 2 adults. On male, one female. The male is Olia's brother, and the female is the sister of Olia's late husband.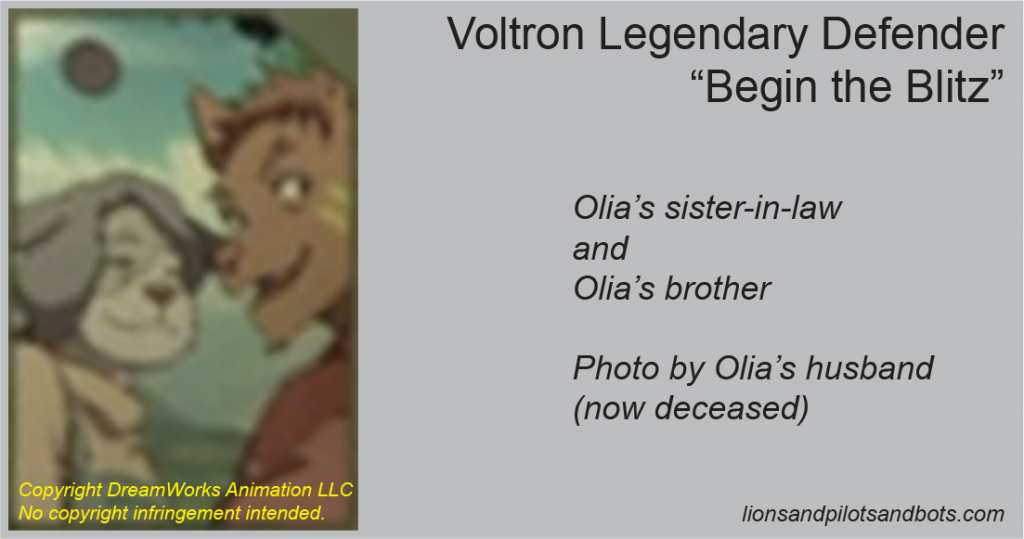 The pictures were all taken by her late husband which is why you don't see him in any of the photos. But he looks a lot like his sister and his older son.
Olia and her husband were active in the rebellion from a young age. But Olia scaled back her involvement when they started a family, while her husband continued working full time with the rebels. Eventually Olia's husband and brother were killed in an attack. They are just 2 of the many honored by the monument that Pidge visited in "Reunion." As the rebellion continued to lose numbers, Olia asked her sister in law to care for her children while she stepped up and reclaimed her place as one of the rebellion's top pilots. She tries to visit her children as often as she can between missions.
She's had a tough life, but if she can help free the universe from Galra rule, then it all would have been for something.
Thanks to Lauren Montgomery for providing some insight into Olia that we might not have otherwise gained from the program itself!